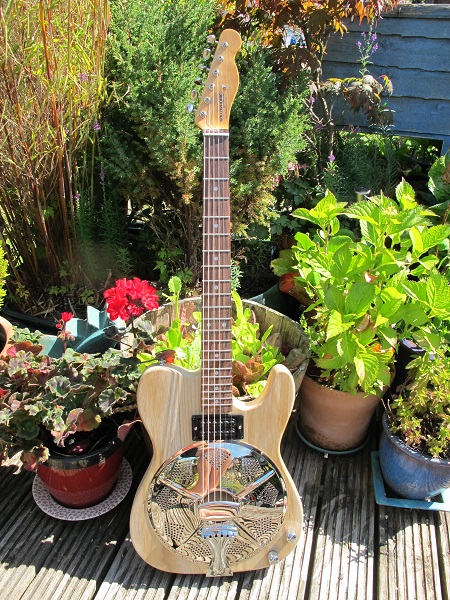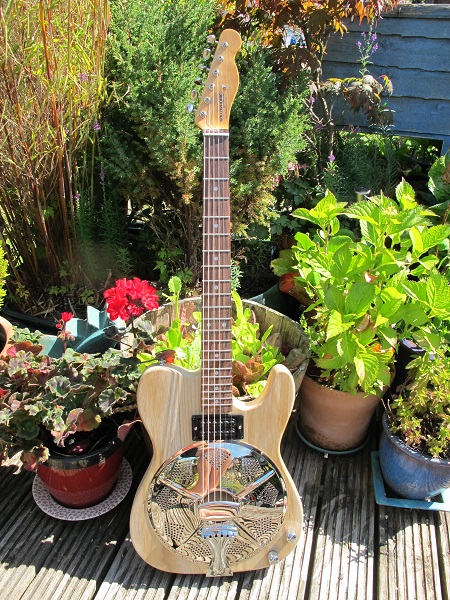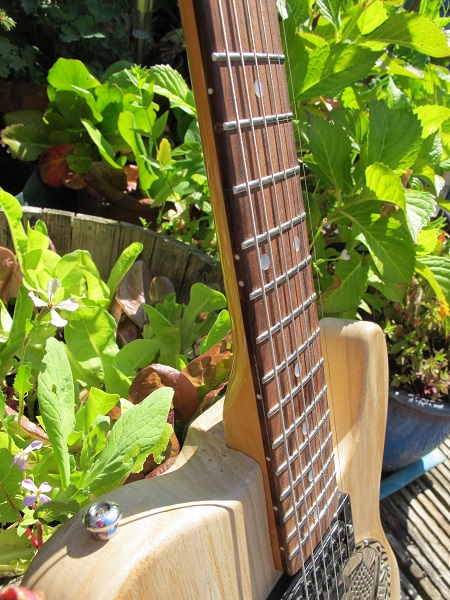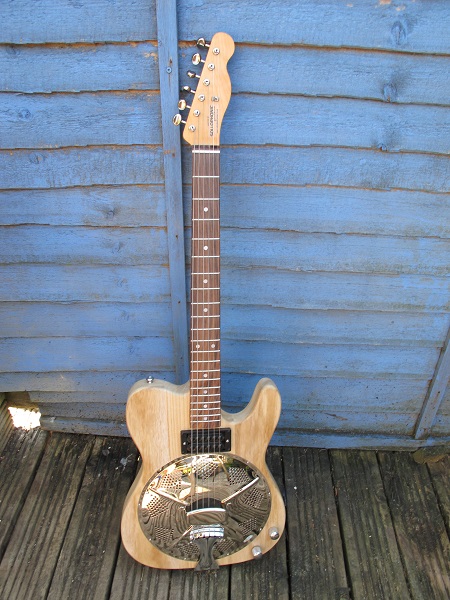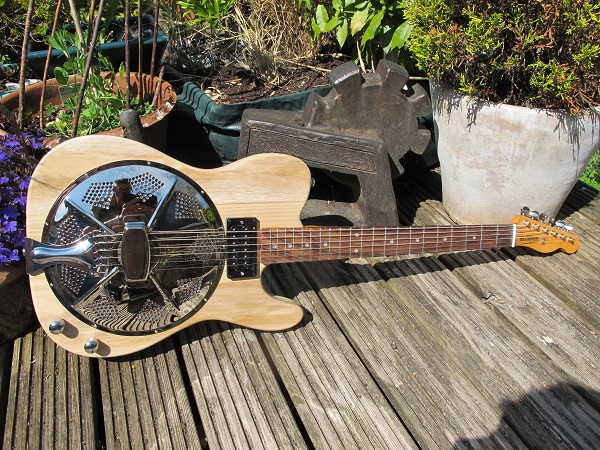 Paulowina Body, Rosewood Board Neck, Warman Pickup, "Rough 'N' Ready" Series
Lightweight Paulowina Body, Thin Finish Rough 'N' Ready Series, Rosewood Board Neck, Sieve Cover-plate, Rear Mounted Controls, Warman 12 Gauge Pick-up With Coil Tap, Rear Sound-holes, Mixed Versatile Action. A Cracker!!!
Product Description
This is a paulowina bodied Sollophonic guitar with a thin finish and a rosewood board neck. Like all Sollophonic solid bodied resonator guitars, it has a Continental cone under the cover-plate and a bone top nut with widened string spacing. The paulowina body is nice and lightweight, it has a tin finish that will wear and age nicely and has a pretty grain pattern. The neck is a sweet one, rosewood board, gloss finish, the frets have been dressed and levelled and it has a nice slim-ish profile. It has vintage style tuners too, for ease of string changes. It is strung with 12-52 strings and has a mixed action for both slide and non-slide playing. It has an all rosewood bridge and saddle, this gives this guitar a warm, full acoustic sound. The pick-up is a Warman 12 Gauge hum-bucker, which is wired to rear mounted controls. These controls include a coil tap on the volume control to give a change in tone on the pick-up, switching between a brighter tone and then a full sounding one for extra versatility. It has a sieve cover-plate, this one has some slight blemishes on it, hence the reduced price. No scratch-plate on this one, a sort of stripped-back vibe to it. Finally it has chrome knobs, a standard tail-piece and rear sound-holes to give a nice spread of acoustic sound.
So to sum up, paulowina thin finish body, rosewood board neck, versatile mixed action, Warman 12 Gauge pick-up with coil tap, rear mounted controls, sieve cover-plate, rear sound-holes. Nice and light-weight, but with a beast of a pick-up and a sweet playing neck.