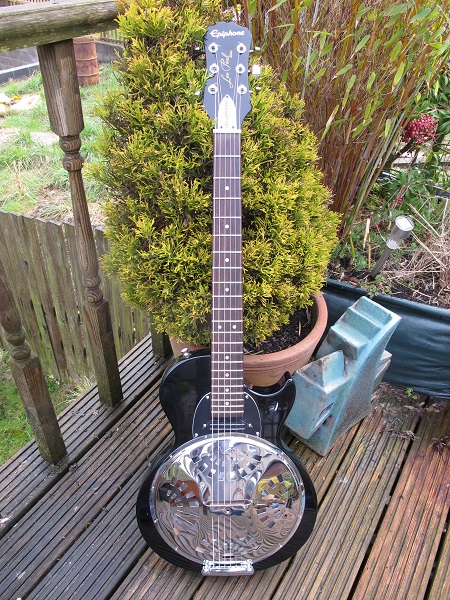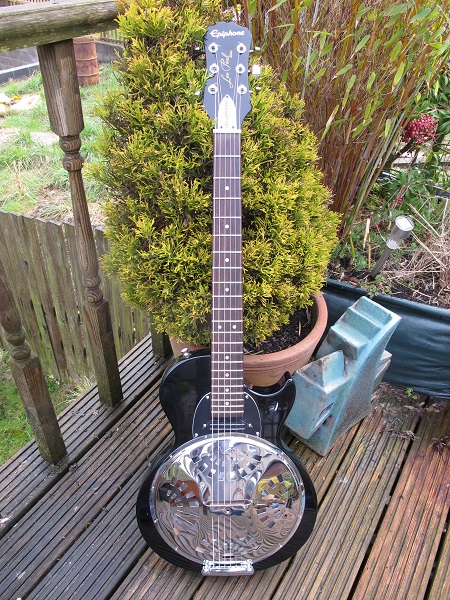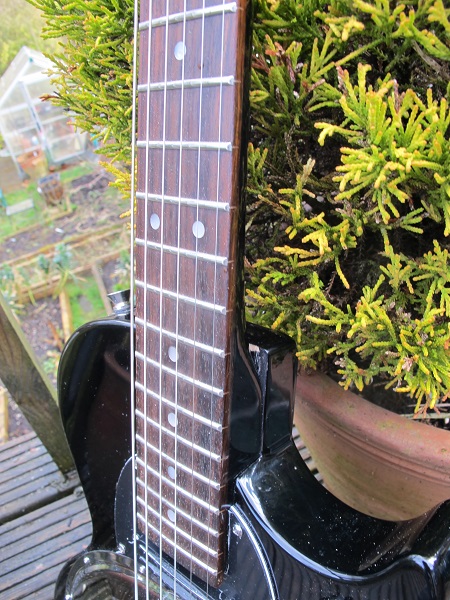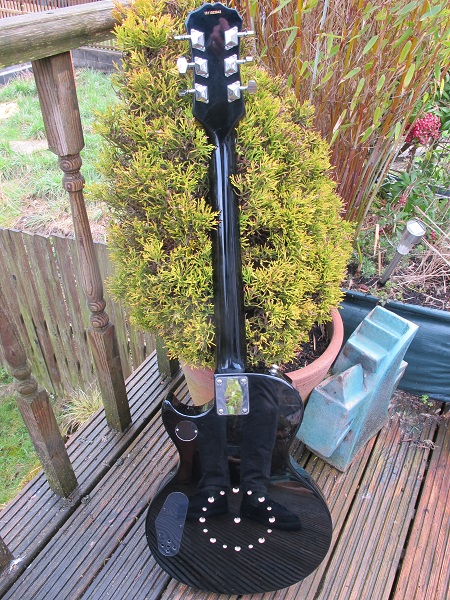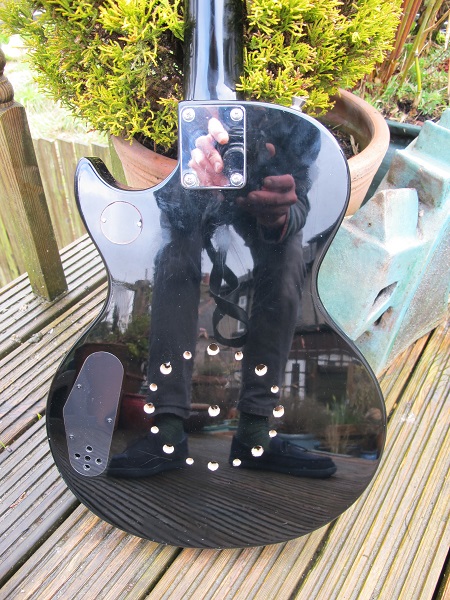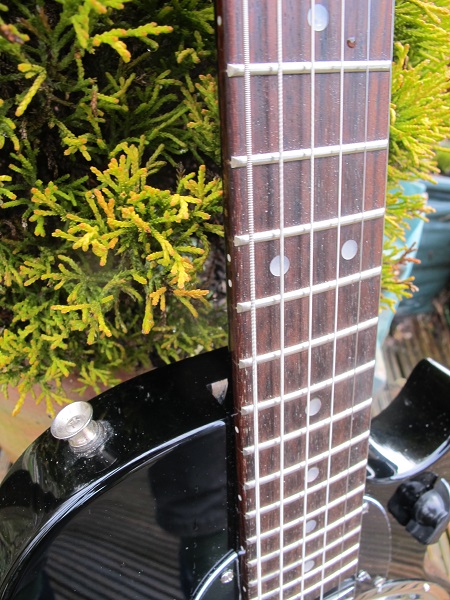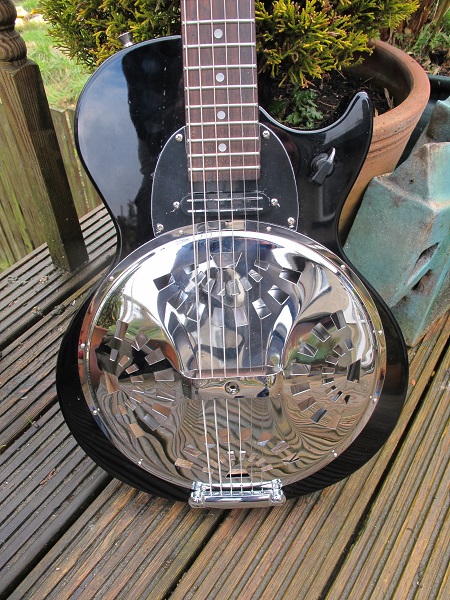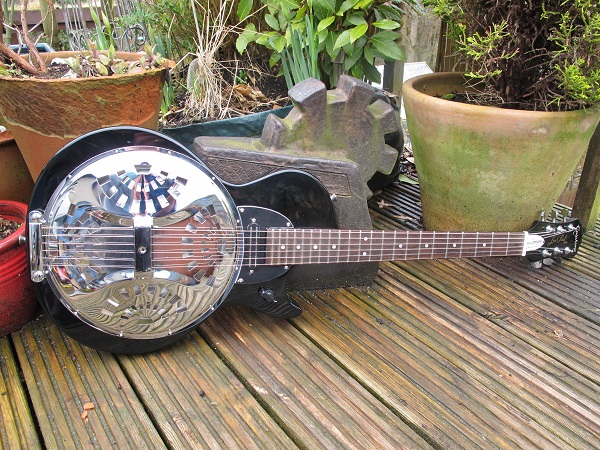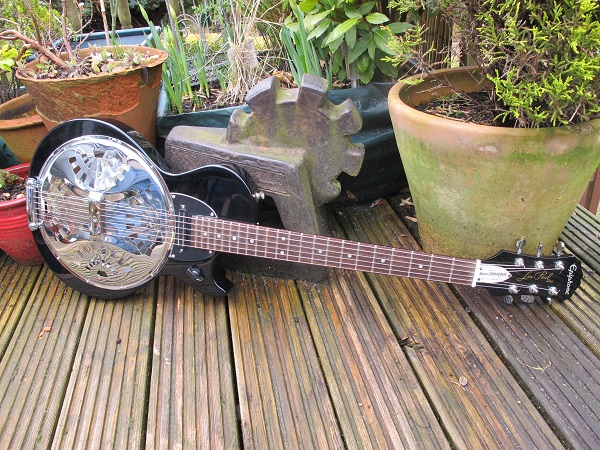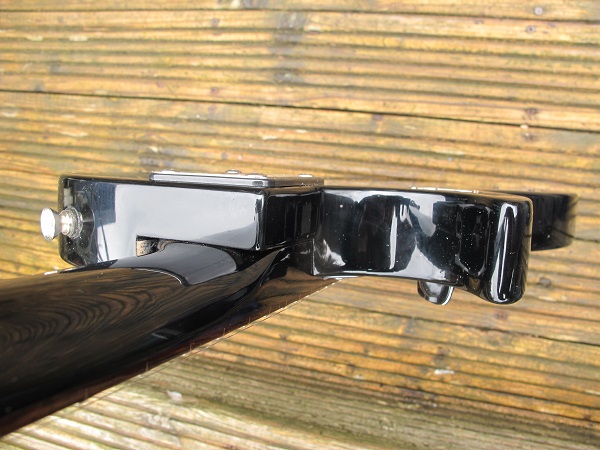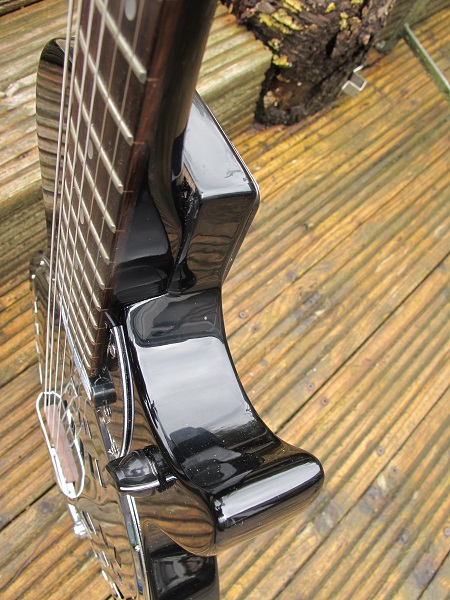 Epiphone Les Paul Special Conversion, Black, Hotrail Pickup,
Epiphone Les Paul Special, Light Wear, Hotrail Pickup, Dobro Style Cover-plate, Rear Mounted Control, Rear Sound-holes, Mixed Action, 12-52 Strings, Bone Nut, Continental Cone.
Product Description
This is an Epiphone Les Paul Special in black, converted into a Sollophonic solid bodied guitar. This is converted from a guitar which had some light wear, a few small dings, but otherwise good condition. These guitars take quite a bit of adaptation, the neck needs moving back into the neck pocket, and I have to use a spider-cone guitar cover-plate. Like all Sollophonics it has a bone top nut with widened string spacing and a Continental cone under the cover-plate.
This guitar has an all rosewood biscuit bridge and saddle, and is strung with 12-52 strings, giving this guitar a bright acoustic sound. It currently has a pretty low action for both slide and non-slide playing, but this can be raised to suit more slide style uses. It has a 11K Hotrail pickup wired to a single volume control rear mounted on the lower horn, with a chicken-head knob. This pickup is mounted to a small black three ply pick-guard, and it has a chrome plated spider-bridge dobro style guitar cover-plate. The strings are secured with the existing stop-bar mounted at the back of the guitar, and it has rear drilled sound holes in the rear. Finally it has an extra sound-port built into the rear control cavity cover.
So to sum up, a cleverly converted Epiphone with a Hotrail pickup, rear mounted control, chrome cover-plate and rear stop bridge. Rear sound holes, Continental cone, mixed action for both slide and non-slide and a bone top nut. Quite a lot more time and creativity goes into converting these Epiphones, so this is reflected in the price.