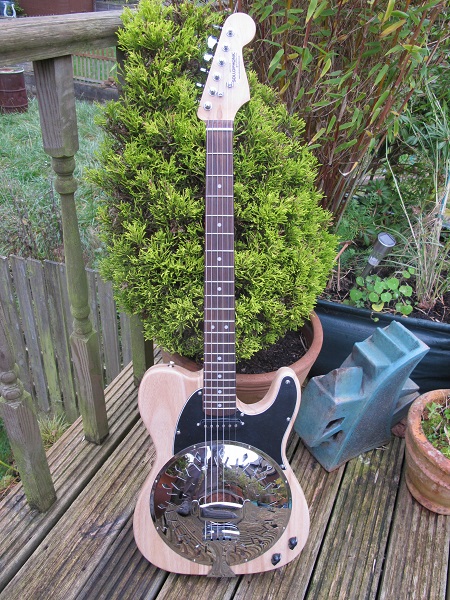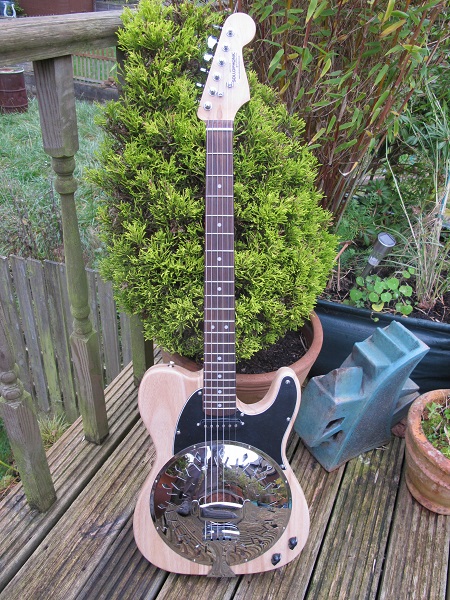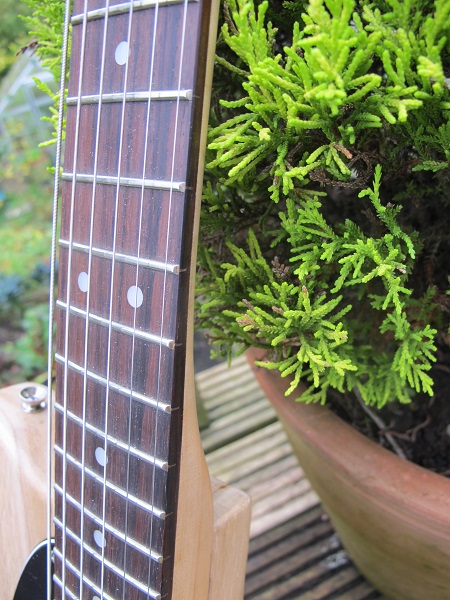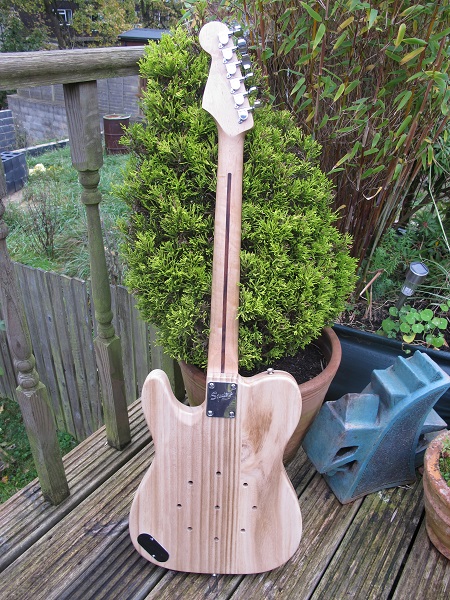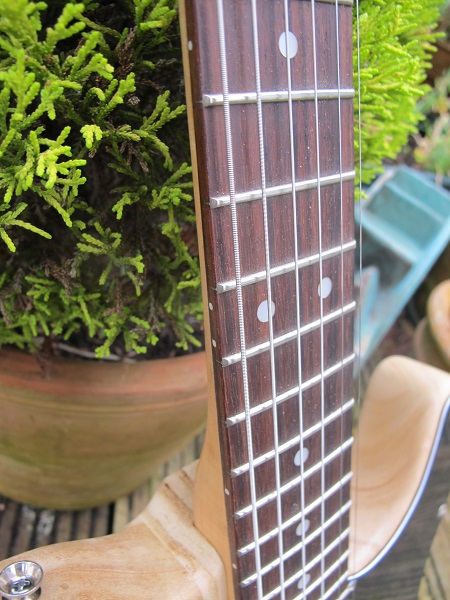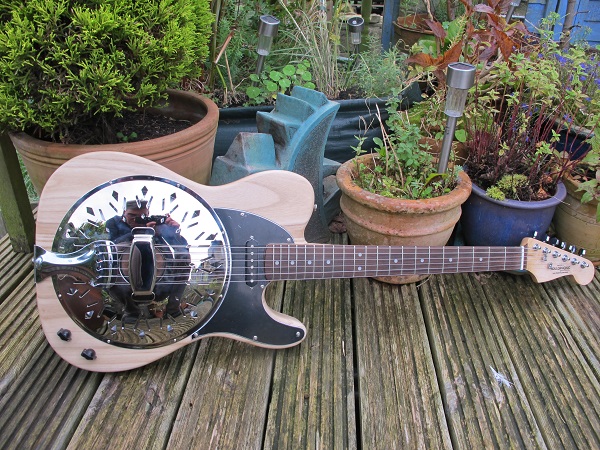 Paulowina Body, Squier Strat Neck, "Rough 'N' Ready Series.
Paulowina Body, Thin-Skin Relic Style Finish, Squier Neck, Sweet Single Coil Pickup, Chicken-foot Cover-Plate, Mixed Action, Rear Mounted Controls, Chicken-Head Knobs. "Rough 'N' Ready" Series, Slightly Used Parts Giving You A Lower Priced Sollophonic. Great Player, Super Sounding, Lower Price. A Stonker!!!
Product Description
This is one of my latest "Rough 'N' Ready" series of Sollophonics, using up odd and spare parts to give a cheaper instrument, but still with the same attributes of acoustic volume, electric playability and resonator tone. Like all Sollophonic guitars it has a Continental cone under the cover-plate and a bone top nut with widened string spacing. This one has a paulowina body, finished in a very thin skin, almost bare finish, that even has a relic style feel with a grainy feel to the timber. Very lightweight, this body has rear sound-holes and is matched up to a Squier strat neck with a skunk stripe and a slim profile. It has a single coil, 6K pickup mounted to a black three ply scratch-plate and wired to rear mounted controls topped with mini chicken-head knobs. This pickup gives a bright, clear electric sound, great for many styles of playing. It is strung with 12-52 strings, and has an action set for a mix of slide and non-slide playing, a full bodied acoustic tone making this a very versatile guitar. It has a chicken-foot style cover-plate and a full length tail-piece.
Like the other guitar in this latest "Rough 'N' Ready" series, it is made using up parts I have accumulated over the past ten years or more of making these Sollophonic solid bodied resonator guitars. The neck has very light wear, and a nice "played-in" feel, the cover-plate is a second, with some very light scratches, the pickup is a used one, but has such I lovely full single coil tone, I just had to use it. The body finish, is less smooth to the touch that usual, and with its thin finish will wear and naturally relic well. Very lightweight, and a lovely player and sounder too.
So to sum up, paulowina thin skin finish body, slim-ish Squier neck, sweet single coil pickup, rear mounted controls, a chicken-foot cover-plate, nice mixed, versatile action and a great package for a lower price.
Weight;- 2.4Kg/5lb 4oz.