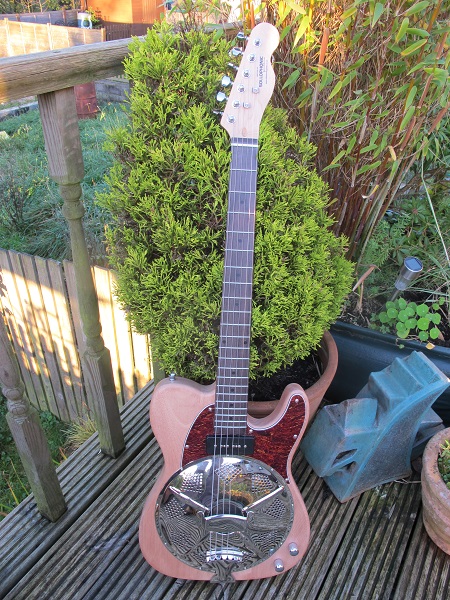 Mahogany Body, Rosewood Board Neck, P90 Soapbar, Red Torty Guard
Mahogany Body, Rosewood Board Neck With Matching Dot Markers, P90 Soapbar Pickup, Red Torty Guard, Mixed Slide/Non Slide Action, Rear Mounted Controls, 12-52 Strings, Sieve Style Cover-Plate. A Stonker!!!!
Product Description
This is a custom made Sollophonic solid bodied resonator guitar, built up from a natural mahogany body, matched to a rosewood board neck. The body is finished in a thin skin lacquer, and complements the neck which unusually has dark fretboard dot markers which give it a classy look. It also has white dot markers on the edge of the fretboard and is a lovely satin finished neck with a nice chunky-ish profile. Like all Sollophonic guitars it has a bone top nut with widened string spacing and a Continental cone under the cover-plate. It has a Soapbar P90 pickup rated at 9K, wired to controls that have been rear mounted, topped with chrome knobs and this pickup is fitted in a dark red tortoiseshell scratch-plate. It has a rosewood biscuit bridge and a maple saddle and is strung with 12-52 strings giving this guitar a bright, loud acoustic tone, with the pickup giving it that classic P90 slide tone. Mixed slide/non-slide action makes this a versatile and great sounding instrument. It has a sieve-style cover-plate and a short tail-piece, and it has a simple but effective sound-hole pattern in the rear of the guitar.
So to sum up, a custom build here from Sollophonic guitars, mahogany body, rosewood board neck with unusual fretboard markers, P90 pickup, red torty guard, simple but effective sound-hole pattern and a sieve cover-plate. Great sounding, great playing and a real one off here.
Weight;- 2.95Kg/ 6lb 8oz.