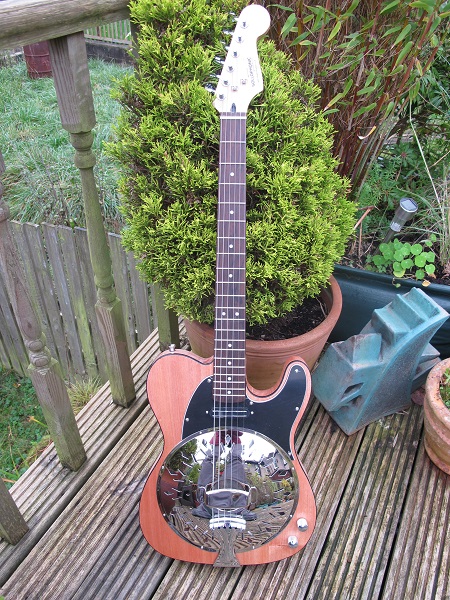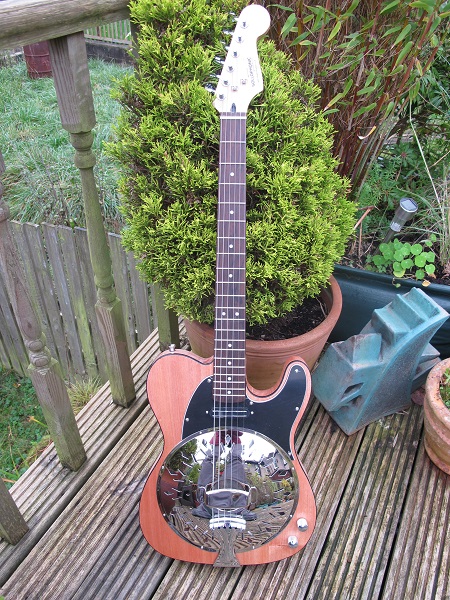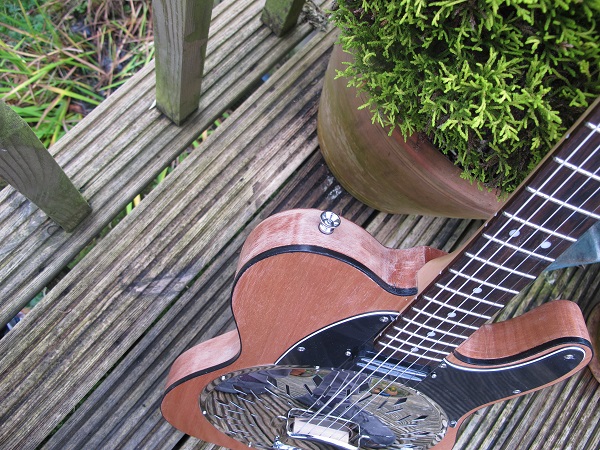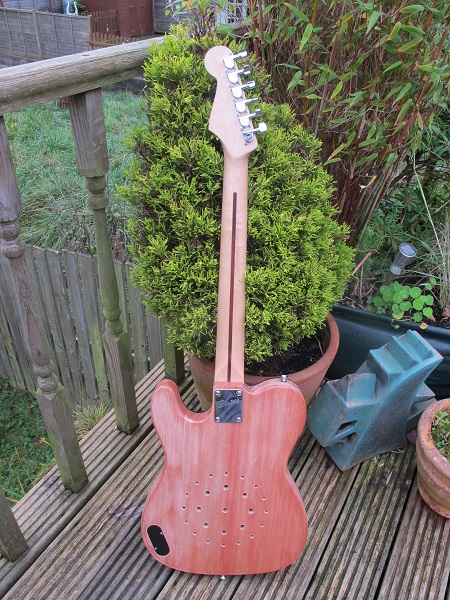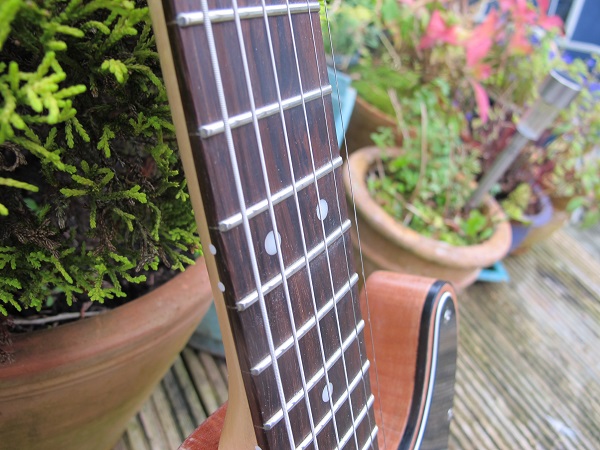 Bound Mahogany Body, Squier Strat Neck, Hotrail Pickup, "Rough 'n' Ready Series"
Single Bound Mahogany Body, Light Wear, Thin Skin Finish<  Squier Strat Neck, 12-52 Strings With Versatile Action, Hotrial Pickup, Rear Mounted Controls, One Of The Range Of "Rough 'N' Ready" Sollophonics Giving The Classic Sollophonic Attributes In A Lower Priced Instrument. A Belter!!!
Product Description
This is one of my latest "Rough 'N' Ready Series" of Sollophonic solid bodied guitars, built up from a mix of spare parts and natural timber bodies, to give the classic Sollophonic attributes of acoustic volume, electric playability  and resonator tone in a different and unique package at a slightly lower price.
This one has a single bound mahogany body, matched to an Indonesian Squier Strat neck. This body has a light wear on the front, with some more ageing on the sides and back. It has a set of acoustic sound-holes in the rear, and it has a very thin skin finish which will wear over time to give that "played-in" look. The neck is a peach, slim profile, skunk stripe and a lovely playability with its rosewood board. It has a Hotrail pickup rated at 10K wired to rear mounted controls and mounted on a black three ply scratchplate. It is strung with 12-52 strings and it has a mixed slide/non-slide action making it a very versatile guitar. Finally it has a chicken-foot style cover-plate and a long tailpiece, and the rear control cavity is covered with a matching three ply black cover.
So to sum up;- mahogany single bound body, Squier Strat neck with rosewood board and skunk stripe, mixed action, Hotrail pickup, chicken-foot coverplate, rear mounted controls, and rear soundholes.
Weight;- 2.85Kg/ 6lb 6oz.