Sale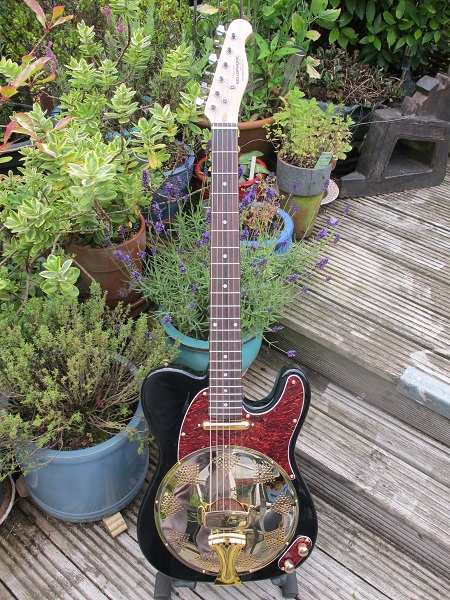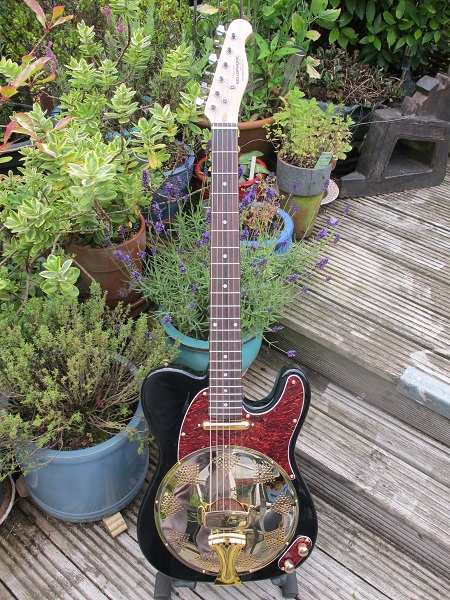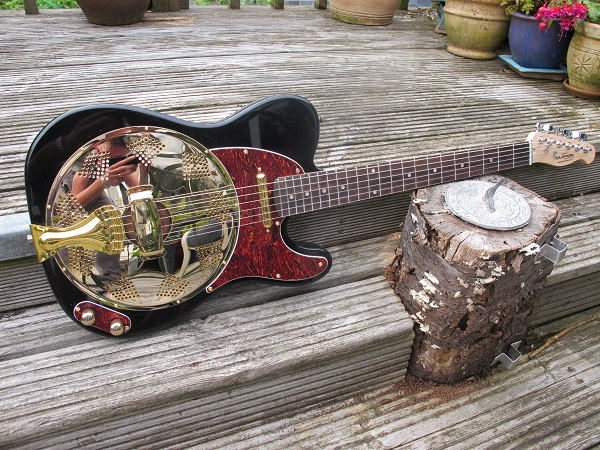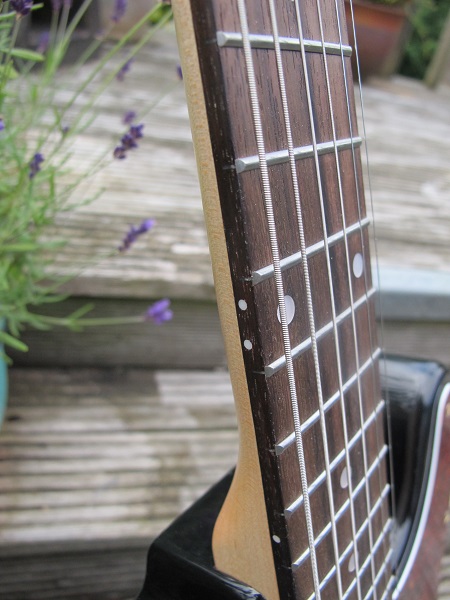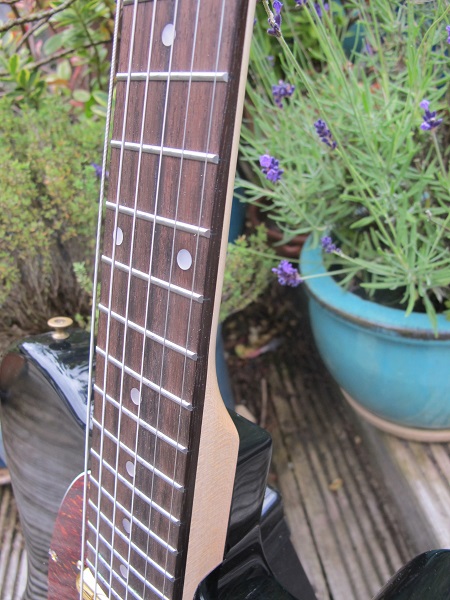 Black,Rosewood Neck,Red Guard,Gold Hardware,Lipstick Pickup
Black, Gold and Red Themed Sollophonic Guitar, Continental Cone, Mixed Versatile Action, Easy Playing Rosewood Board Neck, Gold Cover-plate, Tail-piece,Sound-port Grille, Lipstick Pick-up, Neck Plate and Jack Socket Plate. Great Electric Tone From The Pick-up, Lovely Acoustic Sound. A Gold-Plated Twist on the Classic Sollophonic Solid Bodied Resonator Guitar. A Stunner!!!!
Product Description
This is a black Sollophonic solid bodied resonator guitar with a rosewood board neck, lipstick pick-up and gold hardware. Like all Sollophonic guitars it has a Continental cone and a bone top nut with widened string spacing. The rosewood board neck has a sweet, easy playing profile and comes with sealed tuners. It has a rosewood biscuit bridge and maple saddle on the cone, and is strung with 12-52 strings, and has a lowish action suited to chord and finger-style playing yet still with a good action for slide playing. It has a gold lipstick style pick-up rated at 7.9K mounted to a red tortoiseshell scratch-plate, and wired to controls on a red torty control plate and topped with gold knobs. This pick-up gives a great tone, classic slide sounds here, plus the set-up makes this guitar have a bright, clear acoustic sound. It has a pale gold finished sieve style cover-plate and gold standard length tail-piece. The gold hardware theme continues with a gold jack socket plate, gold neck plate and a gold grille over the rear sound-port.
So to sum up, a bit of a twist on the classic Sollophonic, with its gold hardware which complements the black and red theme, to give something different looking, yet still with the classic Sollophonic features of playability, versatility and adaptability. Continental cone, versatile action, great sounding pick-up, nice neck and lovely tones both acoustic and electric.